October 2019
Good news!
October 18th Live art for Air Traffic Control album release party! Lunenburg NS on the docks around 6:30 pm.
I will be participating at the Halifax Zine Festival November 2nd.
Also mid-month of November All That Glitters Is Not Gold a new collection of small works will be launching with an event show!
September 2019
Flavia Art News:
Summer in Italy was as you might expect beautiful. In the warm Mediterranean it is la dolce vita that somehow takes over. From quiet outdoor dinners, to vivacious dancing in the piazza, life seems to flow just a little more like a good glass of wine when you are in this incredible hub of civilization and culture. Being in Monferrato (Piemonte)  brought with it new curiosity and new opportunities. I was able to join a group of established local artists and get valuable feedback on my work. (If you can stand to be under a microscope and have your art critiqued, you win, because you are learning). It is in this setting that I was asked to make art pertaining to nature and the environment. I accepted the challenge and from this a whole new body of work is being born.
All That Glitters Is Not Gold
New Ongoing Fall/ Winter Series
Nature? What is our nature and how to we give or detract value from our interior and exterior lives? This series uses gold as a base colour and illustration/ mixed media to explore our relationship with Nature. I will leave it up to you to interpret the rest.
Making a commitment to viewers and buyers so that you are not obligated to go to conventional spaces and places to enjoy art. It's a new way and I hope you can join me.
My goal in the next year is to do tailored, measured shows to introduce art and the artist to as many people as possible. Bookings and info at flaviaintesta@gmail.com
Very exciting to do a one woman show live in the streets in Monferrato! More people interacting with art, more openness, more conversation in a chaotic world. This was very uplifting for everyone. Art is winning!
A big grazie mille to Art Saloon Gallery (Ariccia – Roma)
The kind organization framed and put up my work and had a wonderful turn out.
**** **** **** **** ****
Flavia Art News: July – August
I'll be working on new material in Italy for the summer surrounded by my family and friends. I live in relative obscurity most of the year. Going to my other location and home gives me inspiration. It requires time to think and to play.
Looking forward to OBEY OXII – YHZ this weekend! I will be presenting a thirty foot 'zine scroll talking about resilience, the power of the human spirit in life and the story of intercultural adoption, adaptation and allowances.
As seen in NYC in April.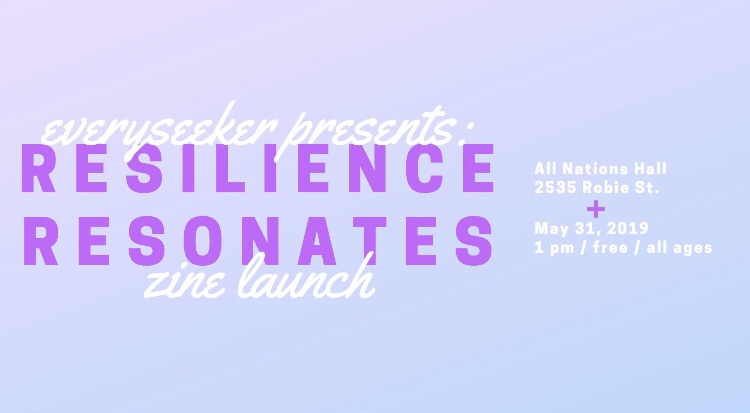 Now you see me
Hello! Buon giorno!
Here I am in my annex making a painting!
May 2 0 1 9:  Working on a few shows in Nova Scotia for Spring. Looking forward to making new work with paint and ink still using black and red and part collage and words. I have travelled to Austria, Switzerland and Italy of late and this has given me a new perspective yet again to make interesting and beautiful art work. I hope to translate this travel period into something tangible and fun.It is a great step for a creative to present work for new people it is especially enriching when one has that opportunity as I did at Manhattan College in New York City, hosted by the fantastic Martha Joy Rose of the Museum Of Motherhood- I presented a graphic scroll of thirty metres x 30 cm. Which ended up being a performance piece as I had a great audience hold the piece in a circle as I stood in the middle to narrate. Little steps take on a big significance. Thank you to all who observed and participated. Subversive art in Academia is very satisfying indeed!
March-April NOTES
Dear Art Lovers,
2019 Has stared off with quiet continuation of the great art year that just passed. As I sit here and write, I want to explode and tell you all about the things I am planning to do, what I have started and what I have finished all at once! Those of you who know me or have met me, know that I live intensely and my work and my words I hope follow suit.
Being an artist comes with an enormous task and burden if you will, to say and project things that cannot otherwise be said in society, in out heart of hearts and in our unconssciousness and shadows. Hopefully I can bring the beauty of that out.
There have been countless hundreds of thousands who have come before and who are here today, doing much the same thing. I am most pleased to know that we share this in common, and that though unique, I am not alone in my work life. I have a great sense of fidelity to my art (and to my family). Both feed us. It is with the utmost respect that I create art and nurture my family. It is these creations that keep my work integral to who I am and what I do. I cannot separate my life from my art. In art, like in life some things are easy while others require more elaboration. Why tell you this? Because by making it public, I am accountable and it make the job of the artist real. It is a vocation that requires solitary hours of practice and patience. I have done that, and will continue to do so. Generating better work, a body of material that will be here long after me. I would also like to add, that without YOU, this would be a rather dull pursuit. My ego and pride need you, without sounding too much like an asshole.
Thank you and continue to stay curious, inspired and optimistic!
Flavia
Narrative Portraits – Your life interpreted by Flavia. Affordable Art with meaning.
After two years #flaviasinternationalartlist is coming to a close at the end of December. This was an initiative I took where I did interpretive illustrations of your lives and photos from social media and other media and stories you sent me in. I have about 50 or the 100 I started and will use them as promised to do a show and a book in 2019.
December at the ISYTE Gallery in Calgary, Alberta three new pieces are showing into the new year as new collaborations are in the works. Very happy to have work out West! Go Canada.
I am very happy to announce that two of my works are part of ongoing publications with Mount Saint Vincent University, one with Understorey Magazine and the other with Atlantis Magazine, these are both academic publications coming out of the Maritimes, go check those out online!
More academia and art with the upcoming published work in 2019 for Motherhood Initiative and Social Exclusion published by Demeter Press edited by Christie Byvelds and Heather Jackson. Wonderful to be the only artist among very bright and talented academics and researchers. On a subject that I have been part of and living for over twenty years. Motherhood!
I will be participating and sending my 9th year of charity work with the #TAE #twitterartexhibit, being held in Scotland in 2019, for art and health care. I love this because we all need to be healthy to prosper and art can help do that. TAE is an initiative where are postcards are sold at a silent auctions around the world for different charities. It's great way to help out and it makes a difference.